Digital Innovation Hubs
Digital Innovation Hubs
AIR4S - Artificial Intelligence & Robotics for Sustainable Development Goals
Click on the following link if you want to propose a change of this HUB
You need an EU Login account for request proposals for editions or creations of new hubs. If you already have an ECAS account, you don't have to create a new EU Login account.
In EU Login, your credentials and personal data remain unchanged. You can still access the same services and applications as before. You just need to use your e-mail address for logging in.
If you don't have an EU Login account please use the following link. you can create one by clicking on the Create an account hyperlink.
If you already have a user account for EU Login please login via https://webgate.ec.europa.eu/cas/login
Sign in
New user? Create an account
Contact Data
Coordinator (University)
UNIVERSIDAD POLITECNICA DE MADRID
Coordinator website
Year Established
2017
Location
C/Ramiro de Maeztu 7, 28040, Madrid (Spain)
Website
Social Media
Contact information
Asunción Gómez-Pérez
dih-air4s@upm.es
+34910670416
Description
Description
Artificial Intelligence & Robotics for Sustainable Development Goals (AIR4S) is the one-stop-shop hub in Madrid Region that provides innovative solutions and services to Industry and Public Administrations on Artificial Intelligence and Robotics based technologies. AIR4S bets for the accomplishment of Sustainable Development Goals (SDG) as a way to leverage growth on organizations in a sustainable way and to effectively return to the society their investment.
AIR4S is promoted and coordinated by UPM, and it counts with the participation of outstanding partners strongly committed to complete an amazing open innovation ecosystem to drive companies to transform, grow and become more competitive in the digital world.
AIRS4S will help entities, specially SMEs but also midcaps, big companies and public administrations, to improve their products, services and processes, by introducing the great advantages of Artificial Intelligence and Robotics into their business. UPM firmly believes that the future of innovation in these technologies is to address the co-creation of the digital future together with other disciplines in research, open innovation and education, aligning business and growth with the Sustainable Development Goals.
AIR4S vision is to become a reference DIH in Europe contributing to the digitization of industry by transforming companies and public administration through Artificial Intelligence and Robotics, aligned with the Sustainable Development Goals and being respectful with the social, legal and ethical aspects of these technologies.
To achieve this vision AIR4S internally operates in a network of 5 Research Institutes, 13 Research Centers, 3 Innovation Centers and 200 research groups where professors, researchers, engineers, students, business developers and entrepreneurs, physically come together to jointly co-create the digital future in all areas of Engineering and Architecture.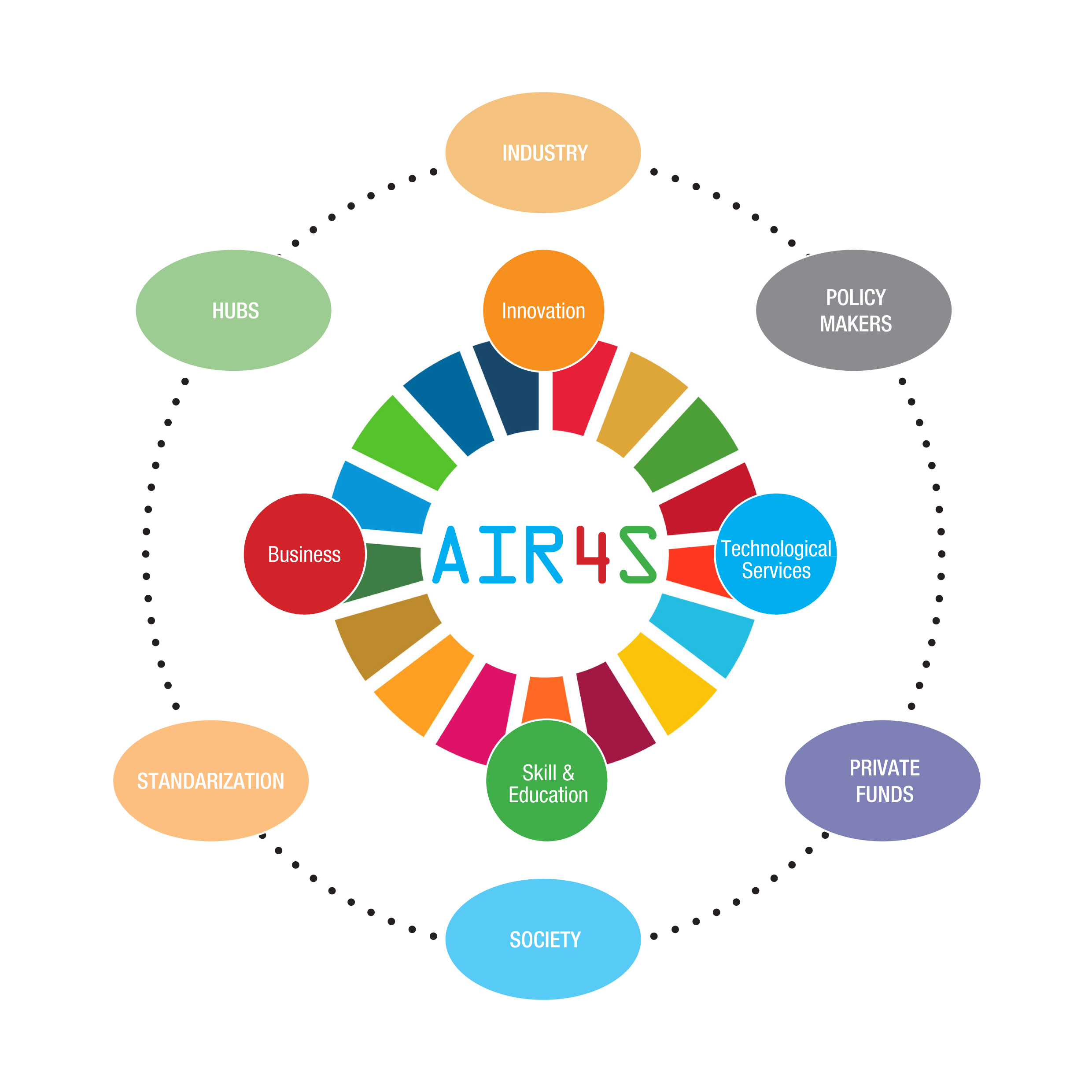 AIR4S ecosystem
Thanks to this UPM broad environment, AIR4S can provide all-disciplines-companies a multidisciplinary and personalised approach and consequently address multisector domains in a confident way, bringing together world-class technological expertise and infrastructure on AI & Robotics but also deep knowledge on how to apply these technologies on different market domains. The expertise and collaborations of the different sectoral Centers/Schools definitively contributes to support organizations in their related field, tackling their digitization process really from the market need (eg: Agronomics School, Forestry School, Biomedical Technology Center, Mines and Energy School, etc.).
UPM is a leader in AI & Robotics technologies, with a number of H2020, National and Regional Research and Innovation projects, but also with long-term direct alliances with companies which fully acknowledges UPM track record expertise in these technologies. UPM is Founding Member of the Big Data Value Association (BDVA) and Member of the euRobotics Association, and is actively contributing to the European Artificial Intelligence Alliance and the EuroHPC Joint Undertaking.
The DIH is complemented by leading stakeholders that will successfully complement AIR4S services and impact thanks to its huge expertise proving services to entities, supporting different funding models and disseminating innovation in the region.
AIR4S is supported by many funding sources, but specifically by the Madrid Region innovation hubs call with 450K€ for the 3-year period 2019-2020.
The partners involved in AIR4S are: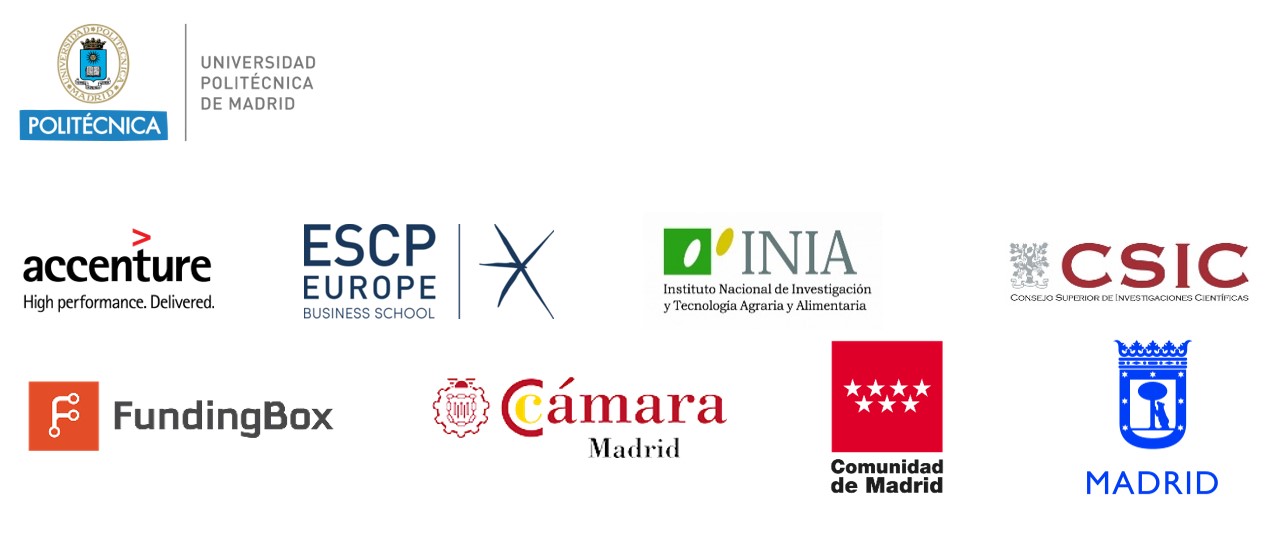 Link to national or regional initiatives for digitising industry
At Regional level, AIR4S is fully involved in the MadrIDtech Strategy, which includes support to companies in the digitization process. It includes aids and incentives to companies for hiring innovation services, funding resources, and link to innovation spaces. Besides that, MadrIDtech wants to create a vertebrate and sustainable business innovation ecosystem that allows the region to be placed at the top of European and international innovation. AIR4S is part of this ecosystem and receives regular funding to work with companies in the search for digital solutions to their problems. Specifically, UPM is funded by Madrid Government with 450K€ for three years to provide innovation services (training, business support, technological services…) to companies.
UPM is also partner of the RoboCity Digital Innovation Hub set up in Madrid Region, providing Robotic-based solutions to companies.
AIR4S is fully aligned with Madrid Region RIS3 strategy, both regarding the areas of relevance and the actions proposed. The areas proposed are Nanotechnologies, Advanced Materials, Industrial and Space Technologies; Health, Biotechnologies, Water and Agrofood; Energy, Climate and Transport; and Information and Communication Technologies. Obviously, AI&Robotics technologies fit perfectly into ICT area, but additionally, as the technologies proposed in the DIH are fully cross-sectoral and it incorporates also the expertise from Engineering Schools dealing with application domains, AIR4S is clearly relevant for all areas of the Madrid Region RIS3 Strategy.
Regarding the actions proposed by the RIS3 Strategy, most of these services are directly offered by AIR4S DIH, such as: favour the access to technology to SMEs, technology transfer support, support to execution of R&D&I projects, coordination of Research and infrastructure services.
UPM and AIR4S is also linked to the Spanish National initiative Industria Conectada 4.0. The strategy aims to develop the right conditions to promote the competitiveness of Spanish companies. MadrIDtech and Industria Conectada 4.0 are aligned and allows companies to collaborate with AIR4S partners in the delopment of projects to support digitization of Industry, specially SMEs.
Furthermore, UPM is member of the Steering Board of PLANETIC, the Spanish ICT Technology Platform, and es.INTERNET, the Spanish Technology Platform to support companies to develop Future Internet services and products. Also, UPM is member of other National Technology Platforms in sectoral domains which can take advantage of Artificial Intelligence and Robotics technologies to improve their competitiveness.
At European level, UPM and the rest of partners of AIR4S are very committed to Digitizing European Industry policy and connected with many of the initiatives in Europe to make it happen. For instance, UPM is Founding Member of BDVA, where leads the Task Force on Skills, and co-leads the subgroup on HPC-Big Data-Artificial Intelligence convergence. UPM is also Member of euRobotics, very active on bio-inspired robotics and telerobotics.
FundingBox is also connected to several EU initiatives related to Digital Innovation Hubs, highlighting the DIHNET network, which aims to build a pan EU network of networks that ensure collaboration and quality among hubs, competence centres, and Regional and National programmes and infrastructures. The final objective of this EU DIH network is to ensure the best possible support to SMEs and midcaps.
Accenture, a company with 12000 employee and turnover of 999M€ in Spain, also provides link to the Liquid Studio and Innovation Hub networks, devoted to offer entrepreneurs innovation spaces to mature concept ideas and reach the market. Both innovation spaces bring together 56 organizations and count for AI 159 events, 82 innovation sessions, more than 70 PoC projects and a 38M€-business generated.
In order to back all these capacities and links to digitizing industry initiatives, UPM has a proven track record on AI&Robotics technologies as it is showed by their numbers: 30 FP7 projects and 20 H2020 AI&Robotics related projects. Within them, it is worth mentioning ACTIVAGE, VICINITY, BigMedilitycs, Transforming Transport, CPSE Labs, BDVe, AI4EU or UNEXMIN. Moreover, thanks to the participation in those projects UPM participates in the IoT European Platforms Initiative (IoT EPI) and Smart Anything Everywhere Initiative (SAE).
This expertise is complemented by the huge background of the AIR4S consortium. We could highlight the experience of FundingBox on DIH initiatives in the area of Robotics and Insutry 4.0, such as RIMA, DIH2, Robot Union, L4MS, I4MS Go!, IMPACT GROWTH.
LINK WITH OTHER HUBS
AIR4S can connect organizations to other relevant hubs. UPM is core partner of 4 EIT Innovation Communities: EIT Digital, EIT Health, EIT Raw Materials and EIT Climate. Therefore, AIR4S takes advantage of the specialised services offered by these Innovation Hubs in order to create powerful synergies. In this sense, they have developed excellent communication channels or leading professional business development agents that will support too to the entities supported by AIR4S.
UPM participates in Smart Anything Everywhere (SAE) Initiative through CPSE Labs, one of the first Competence Centers funded by the European Commission.
Within our ecosystem other relevant stakeholders can be found:
Links to sectoral associations (eg: AMETIC, FIAB, EERA)

Links to community of sectoral users (eg: Hospitals, security Agencies, Farmers Cooperatives)

Links to National and European Technological Platforms and R&D Association (eg: BDVA, NESSI, euRobotics, AIOTI)

Links to Regional Clusters (eg: Aerospace Cluster, Security Cluster)

Links to big companies working with UPM (eg: Airbus, Red Eléctrica, Telefónica, Indra)

Links to Regional/National Funding Agencies (eg: ISCIII, Comunidad de Madrid, CDTI)

Links to Standardization Bodies (eg: W3C, ETSI, MPEG, etc.)

Links to USA and Asia (China, Japan, Malaysia and India) AI initiatives through UPM representatives.
Entities using AIR4S services takes full benefit from all of them.
UPM is member of:

Market and Services
Sectors
Agriculture and food
Maritime and fishery
Mining and quarrying
Energy and utilities
Construction
Wholesale and retail
Tourism (incl. restaurants and hospitality)
Transport and logistics
Real estate, renting and business activities
Public administration
Education
Life sciences & healthcare
Community, social and personal service activities
Manufacture of food products, beverages and tobacco
Manufacture of textiles and textile products
Manufacture of leather and leather products
Manufacture of wood and wood products
Manufacture of pulp, paper and paper products; publishing and printing
Manufacture of coke, refined petroleum products and nuclear fuel
Manufacture of chemicals, chemical products and man-made fibres
Manufacture of rubber and plastic products
Manufacture of other non-metallic mineral products
Manufacture of basic metals and fabricated metal products
Manufacture of machinery and equipment
Manufacture of electrical and optical equipment
Manufacture of transport equipment
Other Manufacturing
Financial services
TRL Focus
TRL4 - Component and/or breadboard validation in laboratory environment
TRL5 - Component and/or breadboard validation in relevant environment
TRL6 - System/subsystem model or prototype demonstration in a relevant environment
TRL7 - System prototype demonstration in an operational environment
TRL8 - Actual system completed and qualified through test and demonstration
TRL9 - Actual system proven through successful mission operations
Services provided
Ecosystem building, scouting, brokerage, networking
Visioning and Strategy Development for Businesses
Collaborative Researchs
Concept validation and prototyping
Testing and validation
Incubator/accelerator support
Market intelligence
Access to Funding and Investor Readiness Services
Mentoring
Education and skills development
Service Examples
Machine learning to optimise Industry 4.0 processes
Short description (what need was solved)?
The problems to be solved in this collaboration were focused on the application of machine learning methods to Industry 4.0. More specifically, the private company was interested in: (i) detecting anomalies during a laser surface heat treatment process recorded using a high-speed thermal camera by tracking the movement of the laser spot; (ii) detect the degradation of industrial motors in concept drifting data streams from sensors in rotating machinery; (iii) identifying the different devices running in the manufacturing plant using the whole plant electric consumption data and estimating the individual device energy consumption.
What service(s) provided?
New methodology based on machine learning was developed to address the previous problems: Dynamic Bayesian networks and kernel density estimation for (i); probabilistic model-based dynamic clustering for (ii); and multi-dimensional Bayesian network classifiers hybridized with decision trees for (iii).
The relation with digitization
All the developments are data-driven approaches requiring sensing technology implementation in their machine-tools and plants.
Name customer, contact details
Etxe-Tar S.A.
San Antolín, 3 20870, Elgoibar (Spain)
Tel: (+34) 943 740 600 | Fax:(+34) 943 743 472 | E-mail: etxetar@etxe-tar.com; http://www.etxe-tar.com/?lengua=ingl
---
Support and incubation of a smart-city startup
Short description (what need was solved)?
The Graffter is an SME whose initial aim was to develop a social network for the smart city. They wanted to change the way people interact within a social network using the city as supporting element.
They required advanced computer vision and graphics technology to offer augmented reality in mobile devices, access to public R&D&I funding to support the development, and education and skills development for their workforce.
After the collaboration with UPM Graffter has developed a technology that enables the development of a B2C strategy to use building facades as a means for digital advertising and marketing.
What service(s) provided?
UPM supported The Graffter in:
providing consulting services in computer vision
hosting the company at the UPM bussiness incubator
recruiting qualified staff among master and PhD graduates from our schools
partner the company in successful public competitive funding calls
provide advanced education and skill development to the staff through our Master and PhD programs in Artificial Intelligence.
Name customer, contact details
The Graffter, SL. http://www.thegraffter.com/en/
Centro de Empresas. Parque Científico y Tecnológico UPM
28223 Pozuelo de Alarcón, Madrid
---
Decision support systems to reduce contaminants and residues
Short description (what need was solved)?
The aimed of this service was to analyze different remediation alternatives for the Zapadnoe tailings site, which contains a huge amount of uranium residues produced by Pridneprovsky Chemical Plant, a largest uranium processing enterprise. To do this, several potentially conflicting economic, radiological, social and environmental objectives must be simultaneously taken into account, such as the environmental impact due to contaminants discharged into surface waters that can impair the functioning of aquatic biota and the impact on groundwater bodies, the doses received by the population through external exposure, inhalation (concentration in the air) and ingestion (via drinking water, food), or the community satisfaction and the impact on neighborhoods or regions.
What service(s) provided?
The GMAA decision support systems based on the Decision Analysis methodology, was adapted to deal with this complex decision-making problem and additional functionalities were incorporated to a new version the software package, such as fuzzy inputs or Monte Carlo simulation techniques to derive a fuzzy ranking of remediation alternatives.
The relation with digitization
The service involved the construction of an objective hierarchy, in which all the relevant aspects to be considered were considered, the fuzzy evaluation of remediation alternatives against the different criteria and to quantify preferences, such as the weights representing the relative importance of criteria in the objective hierarchy. The adapted GMAA system was used to carry out the above tasks and to derive a fuzzy ranking of the remediation alternatives on the basis of Monte Carlos simulation techiques.
Name customer, contact details
Centro de Investigaciones Energéticas, Medioambientales y Tecnológicas (Research Center for Energy, Environment and Technology) (http://www.ciemat.es)
Avenida Complutense, 40; 28040 (Madrid); Email: contacto@ciemat.es
---
Open data for citizen participation and transparency
Short description (what need was solved)?
The Office for Public Participation and Transparency of the city of Zaragoza needed to improve the way in which they published their open data, moving from a 3-star open data sharing in their open data catalogue and open data API into a 5-star open data sharing, according to the 5-star model for open data publication from Tim Berners-Lee. For this, they needed support to enable their open data API to publish RDF in the RDF/XML, Turtle and JSON-LD formats, as well as consultancy on the development of ontologies on which such data may be based.
What service(s) provided?
UPM provided two different types of services: ontology development for smart cities, focusing on the ontologies and vocabularies that can be used for the publication of open data in 4 and 5 star formats; and improvement of the legacy source code used in the open data API of Zaragoza so as to enable the creation of annotations to generate RDF in different formats.
The relation with digitization
Thanks to this service, the city council now offers a good number of datasets using an enriched API that allows combining different datasets that were previously isolated. The existing database that modelled the internal data model from the city council is now RDF-enabled and better integrated.
Name customer, contact details
City of Zaragoza.
Office of Public Participation and Transparency.
---
Robotics for complex problems solving in Agriculture
Short description (what need was solved)?
There is a great interest in the integration of knowledge, methods and systems to design and implement all the processes involved in the optimal resolution of complex problems in Agriculture. It also allows performing more ecological and sustainable activities.
What service(s) provided?
Several ICT services are providing applications for agriculture; which are related to crop monitoring, decision-making system for elaborating treatment plans, and development of prototypes for agriculture vehicle systems.
Vineyard producers demand more effective and sustainable weed management. Current production systems should be profoundly modified by incorporating new technological and agronomic tools to minimize the usage of herbicides and reduce nutrient applications. From the joint UPM-CSIC Centre for Automation and Robotics (GPA group), we have developed crop monitoring systems. These systems are used for decision-making processes such as variable rate applications in high-value crops, for example vineyards. Intelligent implements for precision pest control that aim towards the reduction of pesticides and improvement of the harvested yield and product quality are equally necessary in the chain. Raimat (Codorniú) introduced novel systems based on computer tools for 2D and 3D crop monitoring. They did that on-board of a medium-size electric autonomous platform. The implemented algorithms provided good results for the automatic 3D reconstruction of large areas, thus allowing fertilizer savings through variable rate applicators and site-specific weed control with intelligent implementations. Thus, this system is affordable from an economic point of view since not only does it reduce environmental impact but also produces safer food in the agri-food chain and increases crop profitability.
"Tomates del Guadiana" Cooperative Society aims to become a leader in technology and innovation in order to enable its products to compete in new markets thanks to their high level of quality. They demanded the use of new implements for cropping management and tractor fleet management. We proposed an innovative solution based on new end-actuators able to reduce the damage of machinery while harvesting and the use of automatic satellital modeling for crop monitoring and harvest programing. These tools have allowed "Tomates del Guadiana" to compete in the market with the newest and most innovative technical resources in the sector.
The relation with digitization
The proper integration of ICT technologies in agriculture applications represents a step forward in digitalization of this area, where application of AI methods and robotic systems will significantly increase crop performance.
Name customer, contact details
Agrotei Soluciones Sl. C/. Islas Canarias, 13 28500 Arganda del rey, Madrid. It is an EBT created in the Centre for Automation and Robotics that aims to transfer knowledge and development to the society. Its main focus is to develop precision farming implements and crop monitoring systems.
AGROSAP: C/ Diseño, 8. Edificio Diseño - Local 2. Polígono Industrial PISA. 41927 Mairena del Aljarafe (Sevilla)
---
Conversion of traditional on-line accessible dictionaries into Web of Data formats
Short description (what need was solved)?
KDictionaries is an Israeli company dedicated to the creation and provision of cross-lingual lexical data. Over the years, the company has published several monolingual, bilingual and multilingual online dictionaries. KDictionaries wanted to adapt its lexical data so that language technology applications could interoperate with it. To achieve this objective, the Spanish dictionary of the "KDictionaries multilingual Global Series" dataset was modelled to be converted from its proprietary format into RDF for its later publication as linguistic linked data. The model was to be compatible with the English and German datasets of the same series. This would also allow the linking of KDictionaries datasets to other open external datasets.
What service(s) provided?
Several services were provided to achieve this goal:
Methodological guidelines to transform the resource from its proprietary XML format to RDF, according to the lemon-ontolex model, a de-facto standard for representing lexical and linguistic information on the Web of Data.
Definition of the model followed to convert the KDictionaries dataset into RDF based primarily on the lemon-ontolex model, with some extensions to meet the needs of the rich dictionary data.
Definition of a suitable strategy to construct permanent Uniform Resource Identifiers (URIs) that identify the elements in the model.
Identification of a set of mappings between the XML proprietary data and the lemon-ontolex model.
The relation with digitization
KDictionaries source datasets were already in a digital format, in XML. However, their dictionaries were not linked among each other in a way that maximised their reusability, and their proprietary format prevented the data from being linked to external linguistic resources. The modelling of their data as RDF was a first step to facilitate the exploitation of their content by linked-data aware technologies by abstracting from proprietary digital formats and moving into standardised representation mechanisms for digital content.
Name customer, contact details
KDictionaries. Visiting address 8 Nahum Hanavi Street.
Tel Aviv 6350310 Israel
---
AI services for detection of potential fake news
Short description (what need was solved)?
The fake news phenomena is an increasing issue both in traditional printed news as well as in modern broadcast news and it has increased its negative impact in the era of on-line social networks. RTVE, the Spanish National TV, and CIVIO Foundation, a non-profit organization which monitors public authorities, know very well this problem.
In the era of social networks and digital citizenships the use of on-line media to spread deliberate misinformation and hoaxes may have a great negative impact in the society, in Europe as well as in is any other country.
A potential approach to fight fake news and address the post-truth effect is to systematically share knowledge and data across organizations: the emergence of Big Data tools and Data Science methods could tackle this problem and mitigate its societal impacts.
What service(s) provided?
The service we provide is the provision of tools as a service which can be applied to allow:
multimedia data gathering and data lake model creation,
developing tools based on machine learning and data analytics towards detecting image/video forgery and ,
detection of source in fake news activities.
Coming from results of the H2020 project FANDANGO.
And provide a score of potential fake news (including the reason for such indication), and classification of news to allow journalists and digital media companies to detect fake news.
The relation with digitization
To enable the aggregation and validation of different typologies of news (e.g. scientific data, media sources, on-line social networks, governmental open data) and to provide AI services to support Data Journalists in detecting potential fake news, is a way to support the digitization of traditional media that is in some cases reluctant to digitize their services and publication procedures to avoid publishing fake, biased or misleading news.
Name customer, contact details
The customers that we are providing and contributing with our technology and methodology to tackle fake news are:
Radio Televisión Española (RTVE) – where a RTVE chair is sustaining the activities and we are collaborating in their events; we will start testing with their own content next January 2019.
Fundación CIVIO
---
SErvice Name: Semantic-based Open Data Portal for the Spanish National Library
Short description (what need was solved)?
Historically, libraries have been responsible for storing, preserving, cataloguing and making available to the public large collections of information resources.
The Spanish National Library has a collection of information sources such as:
Authority records: These records contain metadata describing people, organizations, work titles, and subject headings.
Bibliographic records: These records form a representative subset of the BNE catalogue, and provide metadata belonging to modern and ancient monographs, electronic records, manuscripts, periodical publications, maps, engravings, photographs, printed music, sound and audiovisual recordings.
The Spanish National Library requested to the Ontology Engineering Group at Universidad Politécnica de Madrid to create an open data portal based on semantic technologies that integrates all the data coming from the above heterogeneous sources and connect the Spanish library data with other data from relevant international libraries.
What service(s) provided?
The service provided is the development of the datos.bne.es, an open data portal for the Spanish National Library. The portal is in production 24*7, allowing the general public and librarians to access the catalogue using advanced features for searching over different types of entities (e.g., authors, works, translated works, or subjects), navigation across different types of connected entities (such as the author of a work) using advanced features for data indexing, ranking, retrieval and visualization. In addition to the portal itself, the following services are provided.
A network of ontologies based on more than ten different bibliographic ontologies. The BNE ontology builds on the IFLA FRBR model (Functional Requirements for Bibliographic Records), although it reuses several terms from other ontologies such as the RDA ontologies, Dublin Core, or the Bibo ontology. This rich ontology network is published following the Linked Data principles and publicly available http://datos.bne.es/def/.
To transform a large catalogue composed by more than 4 million MARC 21 bibliographic records, more than 3 million MARC 21 authority records (e.g., providing personal information, classification information), and to more than 100,000 digitized materials in RDF triples. Data curation and integration are also supported.
Linking the Spanish National Library data to the following library datasets: The Virtual International Authority File (VIAF), The Authority File of the German National Library (GND), The French National Library (http://data.bnf.fr), DBpedia, The authority and bibliographic catalogues of the National Library of Sweden (Libris), and SUDOC. The number of links to external datasets was significantly increased up to 1,395,108 links. Additionally, 108,834links to digital materials were added.
The release of a large and highly interlinked dataset under a public domain license. The dataset is query-able using the SPARQL language through a public endpoint (http://datos.bne.es/sparql), and through a standard Linked Data front-end that provided access to the data in different formats using content-negotiation.
A end-user interface was developed to give access to the vast amounts of interconnected entities. This user interface was built exclusively using the Linked Data and leveraged the data connectivity and the underlying ontology to index, rank, present, and arrange information catalogues to rich ontology-based data, and their publication and exploitation on the Web.
The relation with digitization
In recent years, the amount of semantically structured knowledge available on the Web as part of the so-called Linked Open Data (LOD) cloud has seen a substantial growth in the domain of cultural heritage and, particularly, in digital libraries. Indeed, libraries, museums and archives are showing great interest in publishing their data as Linked Data (LD). Initiatives like Europeana LOD or VIAF also stress the opportunities offered by digitalizing cultural heritage archives using Linked Data.
The benefits of publishing library data as Linked Data have been summarized in the by the W3C Incubator Group on Library Linked Data. In particular, the following key benefits of Library Linked Data (LLD) with regards with digitalization have been identified: i) provides enhanced and more sophisticated navigation through information, ii) increases the visibility of cultural data, iii) supports integration of cultural information and digital objects into research documents and bibliographies, iv) offers a more durable and robust semantic model than metadata formats that rely on specific data structures, v) facilitates re-use across cultural heritage datasets, thus enriching the description of materials with information coming from outside the organization's local domain of expertise, and vi) allows developers and vendors to avoid being tied to library-specific data formats such as MARC.
The datos.bne.es system is the result of a project that started with the goal of applying semantic and Linked Data technologies to the catalogues of the National Library of Spain. The system is in production being fully available 24x7 to citizens and librarians.
Name customer, contact details
Biblioteca Nacional de España
Ricardo Santos Muñoz
Director del Departamento de Proceso Técnico
Biblioteca Nacional de España
Phone: 915168959 (ext. 559)
Organization
Organizational form
(part of) Public organization (part of RTO, or university)
Turnover
>5.000.000
Number of employees
>100
Funding
Horizon 2020
European Social Fund
National basic research funding
Regional funding
Customers
Number of customers annually
>50
Type of customers
Start-up companies
SMEs (<250 employees)
MidCaps (between €2-10 billion turnover)
Large companies, multi-nationals
Research organisations
Partners
Cámara de Comercio de Madrid
Partner Type
Chamber of Commerce
Website
---
ESCP Europe Business School
Partner Type
Educational institute
Website
---
Accenture
Partner Type
Large enterprise
Website
---
Comunidad de Madrid
Partner Type
Regional government
Website
---
CSIC
Partner Type
Research & Technology organization
Website
---
INIA
Partner Type
Research & Technology organization
Website
---
FundingBox Communities
Partner Type
SME
Website
Technologies
Communication networks
Cyber physical systems
Robotics
Internet of things
Artificial intelligence
Mobility & Location based technologies
Interaction technologies
Cyber security
Advanced, or high performance computing
Big data, data analytics, data handling
Virtual, augmented and extended reality
Simulation, modelling and digital twins
Gamification
Software as a service and service architectures
Cloud computing
Logistics
Internet services
New media technologies
H2020 Projects
FI-GLOBAL
FI-GLOBAL: Building and supporting a global open community of FIWARE innovators and users

FI-GLOBAL: Building and supporting a global open community of FIWARE innovators and users

Through the FIWARE Mundus activities, mostly performed in the FI-LINKS project, countries from all over the world have already started to mobilize innovators and users around new FIWARE ecosystems. FIWARE is currently stepping out from experimentation into commercialisation. The technology must be adopted at global level in order to allow European FIWARE stakeholders to expand their reach worldwide.
The first main objective of FI-GLOBAL is to underpin a FIWARE global community, by increasing the number of FIWARE ecosystems all around the world. FI-GLOBAL will identify and engage multiple stakeholders, who will help bootstrapping innovation ecosystems around FIWARE, provide support to startups, enhance the open platform with additional FIWARE components, and deploy new FIWARE nodes. FI-GLOBAL facilitates the set-up of a worldwide recognized FIWARE Master Course to educate future students and establish international cooperation via a FIWARE Education Community.
The second main objective is to incentivise the take-up of the FIWARE platform and facilitate the means for an effective cooperation among innovators and users from the global community. FI-GLOBAL will mobilize a truly global marketplace of FIWARE applications that will stimulate new solutions and business ideas, and incentivize innovators and users to discover the platform and adopt the technology. This will be done by providing tools that support the cooperation among the global ecosystems to implement new ideas/services and match particular needs that may have been already tackled by FIWARE solutions; and launching a FIWARE Global Piloting Programme to encourage the improvement and replicability of FIWARE solutions at global scale.
Reaching these objectives will contribute to make FIWARE the "de facto" reference in terms of global open source platform for the development of solutions and applications and one of the main instruments for promoting entrepreneurship and strengthening digital education worldwide


FI-NEXT
Bringing FIWARE to the NEXT step

Bringing FIWARE to the NEXT step

Digital technologies underpin innovation and competitiveness across a broad range of market sectors. A key technology to boost such innovation and competitiveness is represented by the full and wide adoption of Open Service Platforms. In fact, they will allow increased competition and market penetration because they should be built on top of royalty-free open specifications, adopting open source reference implementations, and s such allowed to be offered by multiple vendors. The Seventh Framework Programme for Research and Technology Development (FP7) has developed the FIWARE platform which has demonstrated its potential of becoming a service platform of choice, with proven potential for usage by SMEs and startups. This rises to the extent that four main ICT players in Europe with global ambition have put FIWARE in their strategy for market development. More than that, those four players announced the creation of an open to all legal entity, the FIWARE Foundation, to have more stakeholders driving the evolution of FIWARE. Well in this scope, the aim of the FI-NEXT project is to put in place all the measures necessary in order to make FIWARE materializing such a potential. This will achieved pursuing the following objectives: a) bringing FIWARE from an European Open Source project to a global Open Source Community, b) ensuring FIWARE meets the highest quality standards and best technical support, c) positioning FIWARE as the de facto standard for the development of smart applications, and d) ensuring FIWARE Lab to be a self-sustainable environment.

VOJEXT
Value Of Joint EXperimentation in digital Technologies for manufacturing and construction

Value Of Joint EXperimentation in digital Technologies for manufacturing and construction

The VOJEXT project aims at providing a favourable business and technological framework to enable matchmaking and encourage producers and adopters (mainly SMEs including small crafters) of Cognitive autonomous systems for human-robot interaction, specially "cobots", dynamizing science-driven industry approaches for the European industry. For this purpose VOJEXT will design, develop, validate and demonstrate affordable, market-oriented, agile, multipurpose and easy-to-repurpose, autonomous, mobile and dexterous robotic systems as the main component of a smart, agile and scalable cognitive CPS for industry; under the vision of providing Value Of Joint EXperimenttion (VOJEXT) in digital technologies to manufacturing and construction industry; while having DIHs as drivers of innovation based economic development in Europe. t
VOJEXT will demonstrate its value by deploying the solution through a 42-months work plan scaling the project to at least 5 additional different markets; starting with 5 experimental pilots (and 9 SMEs) in the plastic textile, electronics, automotive, construction and creative architecture for urban regeneration, VOJEXT cover traditional and non-traditional areas for AI-robotics and cognitive ICT developments; aiming to extend to 15 experimental pilots, integrating 20 more SMEs through open calls. The open calls will foster scientific and business driven innovation together Digital Innovation Hubs led by UPM-AIR4S (Spain), together with other 3 DIHs – Fortiss (Germany), PIAP (Poland) and EMC2 (France). These Open Calls will gather the most innovative SMEs, that will bring new challenges into project's pilots and propose alternative scenarios. Moreover, the project will carry out with 2 S+T+ARTS residencies, that will allow artists stimulate the creation of new product in different contexts and support creative craft experimental pilots in Italy. DIHs will create a new niched oriented offering based on VOJEXT technical areas and for crafting sector.
Last updated: 28/02/19 13:42